Now Playing: Words - Skylar Grey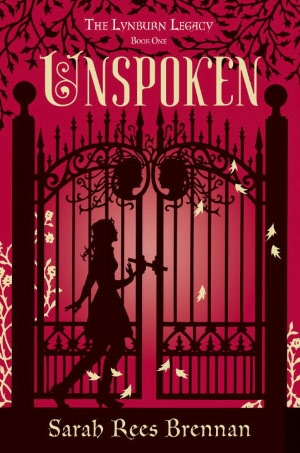 Let me start off by saying, I've never read a Sarah Rees Brennan story. I think I read the first of the Demon's Lexicon trilogy and flipped out because it rocked, but now I can't remember where I left it at. Then, I read her short story in Enthralled and automatically died, because Brennan has this gift where she hugs you, makes you guffaw with laughter, punch you in the heart and rip it out (ala Damon style), choke on sobs and leave you dazzled.
Well, Unspoken is no different following this particular method of love and pain. See here, Unspoken is a genre-buster. It's got the mystery element, the paranormal element and the Gothic in here, it kills me (in a totally good way).
Goodreads says:
Kami Glass loves someone she's never met . . . a boy she's talked to in her head ever since she was born. She wasn't silent about her imaginary friend during her childhood, and is thus a bit of an outsider in her sleepy English town of Sorry-in-the-Vale. Still, Kami hasn't suffered too much from not fitting in. She has a best friend, runs the school newspaper, and is only occasionally caught talking to herself. Her life is in order, just the way she likes it, despite the voice in her head.
But all that changes when the Lynburns return.
The Lynburn family has owned the spectacular and sinister manor that overlooks Sorry-in-the-Vale for centuries. The mysterious twin sisters who abandoned their ancestral home a generation ago are back, along with their teenage sons, Jared and Ash, one of whom is eerily familiar to Kami. Kami is not one to shy away from the unknown—in fact, she's determined to find answers for all the questions Sorry-in-the-Vale is suddenly posing. Who is responsible for the bloody deeds in the depths of the woods? What is her own mother hiding? And now that her imaginary friend has become a real boy, does she still love him? Does she hate him? Can she trust him?
And from here on out, I fell in love with a story called Unspoken. First off, Brennan creates a beautiful setting, the most hilarious first page I've ever read, and set up Kami's voice as a spunky, moxie, independent girl. You know what get's overused in YA a bunch? The loner girl who no one likes to hang out with because they are super jealous of her beauty which the MC knows nothing about and the mysterious handsome boy that comes to her school. For Unspoken, Kami is a loner girl and it's not because everyone's jealous of her beauty. Kami has gotten the 'crazy girl' reputation because of her imaginary friend, Jared, she made up when she younger and talked to. He's stayed with her as she grew up. Jared is part of the mysterious handsome duo (along with his cousin Ash), but they live up to the mystery and handsome that surrounds them (but no spoilers for you!).
Kami's best friend, Angela, is the best person to live in fiction. Seriously, she's a dead-panner, hates boys, is super-model worthy (by Kami's eyes, but I think all the ladies in Unspoken are super-model worthy). Also, Angela loves her naps. I had taken to calling her Captain Narcolepsy throughout the story. The best part though was when the Kami-Angela dynamic opened up and let Holly to their trio. Holly is the "cheerful femme fatale" with her sexiness (I swear, I had a crush on everyone in this book. That were teenagers because frankly, the Lynburn parents scare me and the Glass parents are happily married to each other. THAT NEVER HAPPENS in short) that she utilized when needed. Then, Kami and Angela's brothers; Ten, Tomo and Rusty. Seriously, why can't I have brothers like that? Tomo loves lemonade, Ten is a freaking genius (and ten too; I laughed so loud at this at three in this morning) and Rusty is too funny for me to even begin talking about him.
The Kami-Angela-Holly friendship was simply fabulous, with their quick wit, amazingness and their ability to kick butt and take names. They all complimented each other SO WELL, it was as if I were watching a movie unfold inside my head (and that too is very hard for me to do).
The setting: Oh my goodness, Sorry-In-The-Vale in England is my new go-to place. If the TARDIS where here, I'd take it there. It'd be amazing. The Gothicness in the foreboding surrounding Lynnburn Manor is fabulous as well as the scenes that are at night. The forest is alive with the sound of Brennan's writing and totally mind-blowing. I love it.
Suffice to say, Brennan takes her time with unbelievably awesome/gorgeous characters and settings and plot. Unspoken is a blend of hilarious, sadness, the woes of being a teenager and our insecurities, and the best un-romance ever. Where Kami and Jared are telepathically connected, you'd expect instalove and your lunch to come out because "ugh, get a room you two." Nope. The un-romance is both Kami and Jared are terrified that their imaginary friend is real. And right next to you. And knows everything about you. Yeah, that's the worst thing ever for anyone, but especially for teenagers. And then, the somewhat love triangle that kinda happened, with Ash-Kami-Jared and all I can think was "nooo!!!"
But Sarah made it awesome. There is hope for romance yet YA that doesn't sufficiently deal with love triangles! (I kid. They're a guilty pleasure, done right :) As well, there's some great diversity in here. Talking about loss and dealing with it positively, the LGBQT character in here, the Asian background of Kami (even though I hope we can explore her family history more in the upcoming two books), it was well done.
And the ending for Unspoken? Wasn't much of a cliffhanger to me, but a stab to my heart and evil laughter. It was expected after the events that had happened a day before, but still. I DIDN'T WANT IT TO END THIS WAY. *cue Gotye's Someone that I Used to Know because the wait for book 2 is gonna kill me* Thanks Sarah, I definitely didn't need my heart (she did the same with the short stories leading to Unspoken.)
Honestly, Unspoken is my favorite book in forever. It's something that makes me rethink why I started to write, in a great way. Unspoken is the reminder that I deal with endless drafts and hair pulling, because it'll turn out to change someone. It's one of the things that if you told me I can only bring one book while I was trapped on an island, Unspoken would be it. And I'd gladly re-read over and over until people got it memorized that Unspoken is my favorite book in the history of ever.
thank you Tumblr, you are useful many times.